College Rankings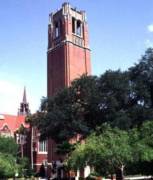 When choosing a university many students rely on rankings from "trusted" publications like US News, Princeton Review, and the good people at Mad Magazine. I usually take all these rankings with a grain of saltů off a coeds tits *High Five!*
All these rankings seem to be based off of racially biased surveys and racially biased statistics. What am I Asian? I cannot work with numbers. I need facts, or at the very least opinions stated as facts.
If you are like me in this respect you are in luck. Over the past couple months I have visited a few big universities. I have gotten in the trenches and experienced what it is like to party at these schools. My criteria is ridged (pun intended) and includes the following:
1) How cool I thought the school was.
2) How hot the girls were.
3) How much fun I had there.

You won't get any fancy pants stats on GPA and SAT scores here. This really is the most important guide to higher education out there.
---

#7 University Of North Carolina, Chapel Hill, NC
Cons: I have to start with the cons on this one because frankly this place sucked. Maybe I missed it but there appeared to be nothing going on. I drove all around Chapel Hill before I came to the realization that their scene consisted of a few shitty bars in some strip malls. The girls were also a disappointment. For southern girls they were really plain looking and all seemed to be "borderline chunky" to "chunky chunky".
Pros: It is not Duke.
---

#6 University Of Kentucky, Lexington, KY
Pros: The girls in Kentucky are cute. The inbreeding thing is obviously true though because they all looked related. There was a consistency of hotness, just no variety in it.
Cons: Lexington is dead. There isn't that many places to go, and the little partying is really tame. Also, there are a few too many "Midwestern" i.e. fat, body types walking about.
---

#5 University Of Miami. Coral Gables, FL
Pros: It is South Florida so there are going to be a decent amount of hot girls around. There are some college type bars at "The Grove".
Cons: It is in South Florida so there are going to be a decent amount of fucking idiots around. Because it is in such a big city there isn't a true college scene.
---

#4 University Of Tennessee, Knoxville, TN
Pros: The girls are really hot. If you like the beautiful southern bells this is the place for you. Their party scene is pretty good too. There is a nice row of bars right next to the campus. You can't beat that for an authentic college experience.
Cons: Too damn country. Everyone there is a filthy hick. Also, their partying is weak in comparison with what goes on in Florida.
---

#3 University Of Georgia, Athens, GA
Pros: The girls are pretty. A really nice downtown area with tons of bars which are really fun.
Cons: Too damn hippieish. If you like DMB, John Mayer, Jack Johnson ect. this place is for you. Athens exudes that laid back attitude. Personally I hate that crap.
---

#2 University Of Virginia, Charlottesville, VA
Pros: A really beautiful campus. Tons of hot preppy girls (which I love). A bunch of cool bars. Just an awesome place.
Cons: Too many Indians.
---

#1 University Of Florida, Gainesville, FL
Pros: National mother fucking champions! The girls are very hot. Uptown, downtown, midtown, are all cool. Tons of wild parties going on all the time. I think it is the greatest place in the world.
Cons: May be getting too hard for dumb hot girls to get into.